As stated in our Church Covenant: We commit ourselves to acts of love and service to those in need in our community and the world. We strive to give witness to God's salvation and the teachings of Jesus Christ through our lives, our actions, and our words. Examples of activities that minister to our community and in turn bless us include:

Since 2007, we have been blessed by many persons in southeast Minnesota who have committed their time and listening ear to interfaith dialogue. Through events such as interfaith walks, meals, and topical discussions regarding shared beliefs, we have gained a much better understanding of our neighbors. We have discovered numerous common values and shared beliefs including respect for others, nonviolence, service to our community and a genuine interest in open communication and active participation in our community.
Examples of two past activities are: Journey of Peace III: Compassion Connection Announcement and Journey of Peace IV: Model for Peacemaking Journey of Peace Program and Journey of Peace VI: Our Shared Responsibility to Care for All Creation Journey of Peace Announcement

We enjoy singing for community organizations and institutions that would like to have traditional hymn singing as part of their program. In the past we have sung at Assisi Heights, Oak Center, St. Mary's Hospital Rehabilitation Unit, and Seasons Hospice.
One example was singers representing the Rochester Mennonite Fellowship performing for the Oak Center General Store Concert Series. The event included sharing of food and then music in 3 segments: songs of peace songs, songs from other lands, and a Christmas segment.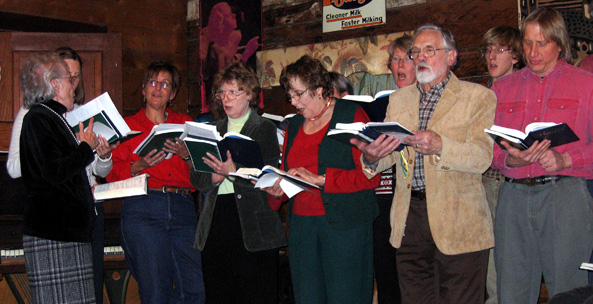 We have participated in the annual Twin Cities Mennonite Relief Sale by making and selling items for children, providing auction and food donations, counting thousands of coins for Penny Power, acting as emcee, and attending the sale and buying quilts!

Collecting items and assembling kits for Mennonite Central Committee (MCC) helps us to be aware of the needs of others around the world. Following Jesus Christ's example, we donate these kits through MCC to attend to both the spiritual and physical/emotional needs of those who are suffering. We collect money and items as needed for specific kits throughout the month and then have an intergenerational activity for the assembly of certain kits at the end of the month.
Part of our mission as a congregation is to be a Mennonite presence for people coming to Rochester for healthcare.

We also support the following organizations by giving of time and material resources: Rochester Area Habitat for Humanity, The Salvation Army, and The Jeremiah Program and Three Rivers Restorative Justice.